Practice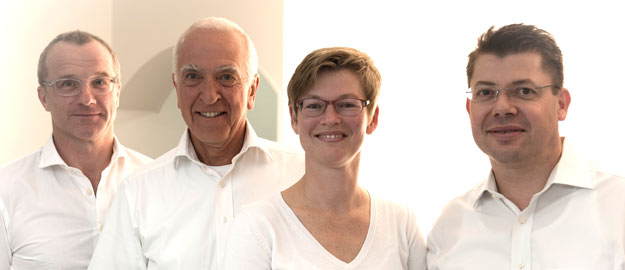 The Orthopaedic Practice Planegg is a general and private orthopedic practice and maintains facilities at the Hospital Munich-Pasing and the Hospital Wolfratshausen as well as an outpatient clinic at the Hospital Fürstenfeldbruck. We provide the complete spread of diagnostic (including MRI- and CT-scan) and treatment (conservative as well as surgical) of orthopedic disorders.
Dr. Christoph Sukopp, a consultant in the fields of orthopedic surgery joined the Orthopaedic Practice in 2004. He's a specialist for minimal-invasive artificial joint replacement and endoscopic surgery of all joints including sports traumatology.
Dr. Clemens Schmid is an consultant for orthopaedic and accident surgery and has expended the Practice since 2014. He's specialized in the fields of spine surgery including all degenerative and traumatic disorders.
Dr. Georg Parzinger founded the Orthopaedic Practice Planegg in 1983 and offers the complete spectrum of diagnostics and conservative treatment of congenital and acquired diseases of the musculoskeletal system.
Dr. Sandra Sukopp is a consultant in the fields of orthopaedic and accident surgery. She's specialized in the conservative treatment of musculoskeletal disorders including acupuncture.